Multiplayer quests are quests that can be completed with multiple players instead of with multiple units of your own. There are 4 slots available for most multiplayer quests (it is possible to start with less than 4). Each player can select one character to use in the quest. The quest can't be started until all players present indicate they are ready.
Multiplayer versions of quests are usually available for the evolve and job token event quests and most hard/EX event quests. Sometimes lower level limited event quests also will have a multiplayer version available. You should do at least one multiplayer quest a day for the daily reward. You must be level 30 to access multiplayer quests.
If a player disconnects during a multiplayer quest, their account is played by the game AI until they reconnect. If all players disconnect, the match will automatic cancel.
Notes for the hosting player:
The player hosting the quest will pay the AP costs for it (at half the cost of the normal event quest) and can pay gems to continue in case of failure.
Accelerate mode will be 2x faster than normal mode. Player hosts can't turn on/off accelerate mode after creating a room or after entering the quest. It is highly recommended you enable accelerate when hosting multiplayer quests!
If the quest fails and the host doesn't pay gems, the player hosting the quest will lose 10% of the quest's AP cost and all players participating can't claim the rewards.
If the player hosting disconnects during the quest and can't reconnect or the quest is finished, the host will lose 10% of the quest's AP cost and can't claim the reward.
If the player hosting unlocks a quest in the Event Archives, they can host it in multiplay quest and others who haven't unlocked it will able to see your room.
The player hosting the quest can hire mercenaries for any slots that are not occupied- any mercenaries will use auto mechanics. The mercenary list appears to be based on the currently selected multiplay unit of the most recently logged in players on your friend list.
The player hosting the quest can control whether participating quest members can enable autoplay under the Battle Settings option before starting the quest. If auto is not enabled, no players can use auto in the quest, but mercenaries will still be played on auto.
The player hosting the quest can kick members of the party before starting the quest- this is also the only way to remove mercenaries.
Notes for players joining:
All players joining pay no costs to join the quest.
All players joining will recieve bonus leader's skill from player host if they qualify (if a memento leader skill is enabled, they must have a memento equipped in that group to receive the leader skill)
If the player hosting disconnects during multiplayer quest, player 2 will become sub-host until the original host reconnects. During this time, player sub-host can pay gems to continue in case of failure but won't lose any AP if the quest is finished.
You can only use the auto play option if the host has enabled it.
Note for newer players: You should not join any multiplayer quests labeled hard or EX hosted by other players until you are at least level 60 and have mastered the job of the character you are using. These quests are usually very difficult and require coordination and a strong team (often with a specific character composition). If you really want to complete these quests for the milestone rewards, you can host and offer in your comments section to spend gems to continue in case of failure- sometimes players will be willing to carry you through a difficult quest if you are willing to gem. You can also use mercenaries to help you through the quest.
Multiplayer Format
[
]
4 Player Multiplay Quests
[
]
The standard multiplayer format has 4 slots for players- each player can bring one unit. Only one unit is required to start the quest.
2 Player Multiplay Quests
[
]
There are a few multiplay quests which are designed to be completed by 2 players instead of 4. Typically these quests allow you to select 2 units per player to bring. Currently the only permanent 2 player multiplay quests available are the Sacred Stone Memories - Records from the Battle of the Chosen series of quests and the 2 player version of the Blood Wolf by Any Other Name available for unlocking in the event archives.
Multiplay Tower Quests
[
]
There are also some 2 player multiplay towers that exist and occasionally run as a special event - none are permanently available. These allow you to select 2 units and a sub, and are found under the Trials section when available.
Enabling Auto
[
]
To do multiplayer quests on auto, you can manually toggle the auto setting directly inside the quest. If you prefer to default to auto, click on the "Battle" button on the left side after joining/hosting a quest (before you actually start the quest) and you can adjust your default battle settings.
Mercenaries
[
]
You can hire mercenaries to use in multiplayer quests at the same cost as for other quests. The selection of multiplayer mercenaries is different than for single player- instead of having the option to select by element from a list of assigned mercenaries from people on your friend list, you can only see a list of 9 mercenaries randomly chosen from the last unit used for multiplayer by people on your friend list. The list seems to cache for some period, but can be refreshed manually to look for different units. Mercenaries in multiplayer will automatically be played on auto and can't be played manually.
Restricted Access
[
]
If you wish to restrict access to a multiplayer group there are 2 options to do so:
Restricted by using password. When you do this you are given a code on the multiplayer quest screen that you can give to your friends to enter so they can join your multiplayer quest. This is commonly done when coordinating with other players in Discord chat to form multiplayer groups for the more difficult multiplayer quests. You can also remove the password on the quest once all the people you have invited have joined, which can be useful when you are short a player.
Restricted by using requirement. There are 2 options to choose, one is unit's level restricted. When you do this you are not allows players who are equipping unit lower than unit's level restricted to join the room and players can't equip unit lower than unit's level restricted before start the match. Another option is cleared only restricted, when you do this you are not allows players who haven't cleared the match you are choosing. This is uncommonly because some units can be function well at low level.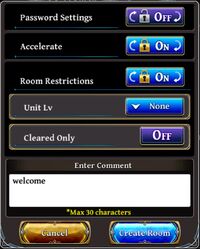 List Of Permanent Multiplay Quests
[
]
Rewards
[
]
You get multiplayer coins for doing multiplayer quests, which can be used in the Multi Coin Exchange to buy a few useful items such as protagonist 3rd job equipment, apples, enchanted job equipment and gear shards. The host of a multiplayer quest gets double the normal number of multiplayer coins.
First Meet Bonus
[
]
There is also a first meet gem bonus given out for the first 50 different players you meet doing multiplayer quests. The rewards are sent to gifts.
1-10 Meets - 25 gems per meet
11-20 Meets - 50 gems per meet
21-30 Meets - 75 gems per meet
31-40 Meets - 100 gems per meet
41-50 Meets - 150 gems per meet