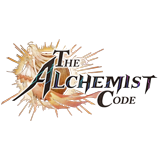 The Alchemist Code is a free-to-play mobile strategy role-playing game developed by Fuji&gumi Games and gg2 and published by gumi Inc., for iOS and Android devices. It was released in Japan under the name For Whom the Alchemist Exists (誰ガ為のアルケミスト, ta ga tame no arukemisuto) in January 2016. The global version officially launched on November 14, 2017.
It is designed as a turn-based tactical role-playing game, using features similar to titles such as Final Fantasy Tactics and Tactics Ogre. The Alchemist Code features a job/class system where each character has three set jobs. These jobs can be built up independently from one another, and some of the abilities from one job can be used on the character even when running a separate job as their main job. This presents the player with several build options for each of their characters. Each character also has an element associated with them, creating a sort of paper-rock-scissors mechanic between the different units.
As part of the game's gacha system, players can summon characters from the game's story or other fan titles, such as Fate/stay Night, Disgaea, Final Fantasy XV, and Full Metal Alchemist, to name a few. Players can then build a team of four main members around these units, with the ability to bring in one of your friend's units as a mercenary, and two sub-in units for when one of your other five units die.
The game features multiple game modes. Story mode takes you through various chapters, each with a different main character along the same timeline. Story mode also has a hard mode that allows you to obtain "character shards" that are used to increase the strength of your units. Event mode allows you to meet additional characters along various timelines and regions. These event missions tend to have three different difficulties: normal, hard (EX), and very hard (EX+). There is also a co-op multiplayer option for these event missions. Character mode allows you to play three levels that immerses you in characters within your roster. Veda Tower is a timed but reoccurring event that allows you to climb various levels of increasing difficulty. Finally, there are two PvP modes: an automated mode controlled by the AI, and a live PvP mode.
The Alchemist Code uses an anime style of art. The character portraits and models, as well as the level design and cinematics adhere to this art style. Gameplay is presented in a 3D isometric view. Although the text in the global version is in English/French/German/Spanish (depending on your settings), all of the voices are in Japanese.
The development team includes senior producer Taku Aizawa, who also worked on Brave Exvius. Yoko Shimomura, Shinya Tanaka, and Shigeki Hayashi composed the soundtrack, while Shoji Kawamori worked on the opening animation video. That video can be viewed on the right.